The domain name and hosting play a vital role in creating a website. Without these two, you are unable to showcase your website in the online world. There are plenty of platforms that provide the best hosting and domain names. In this article, we have filtered out for you some of the hosting providers that offer you a free domain name with hosting. When you buy hosting from these platforms, you will get a free domain name.
Before disclosing those platforms, let's discuss some of the general terminologies:
What is Web Hosting?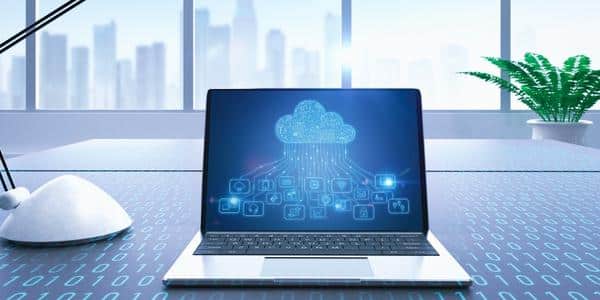 Web hosting is the service that enables you to create and maintain a website on the internet. This includes providing space for your content, as well as a domain name (e.g., www.yourwebsitehere).
DNS Hosting – This allows people to find your website via its IP address (e.g., 207.46.19.147) or name (e.g., www.yourdomainhere.com). If you have just one host but want multiple locations, this type may be right for you!

Email Hosting – Allows access to email accounts hosted by the web host via POP3/SMTP servers on their network. Most people use this type when they first start out with their new business. It's cheap and easy but if they become popular enough later down. Once your business becomes stable, you might want something better like SES instead because those services allow real-time communication between clients/customers directly from within their own applications rather than having someone else do all these tasks. 
What is Domain?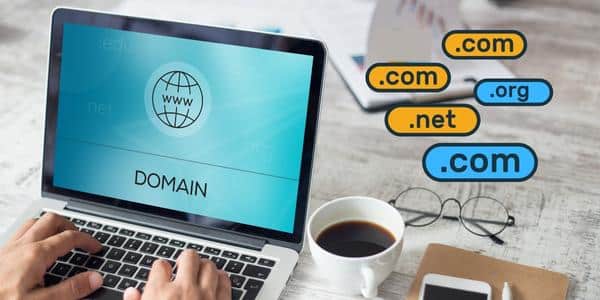 A domain is an address for your website. It's what users type in their browsers to find your website, and it's how they connect with you when they want to learn more about what you do.
For example: if someone wanted to find out more about our company, they could go to beblogy.com and see all the information we have on our site. The domain name would be "mycompanynamehere.com".
To explore more about domain names and their types, read our guide on "What is a domain name? How do domains work?"
Why Do I Need a Free Domain Hosting Plan?
A domain is the name of a website. It's like saying "I want to go to my friend's house," but in this case, you're actually going to their house on the internet (the World Wide Web). A free domain hosting plan is an option if you need the space and bandwidth that comes with it—but there are also other reasons why a free plan might be right for your business:
Storage: The more storage space available at no charge, the more websites can be created on one server.

Bandwidth: Using too much bandwidth can slow down or even cut off access for other users if not enough is being used by all of them at once.
List of Hosting Providers offering a Free Domain Name
NameCheap

HostGator

InMotionHosting

Hostwinds

WebHostingHub

JustHost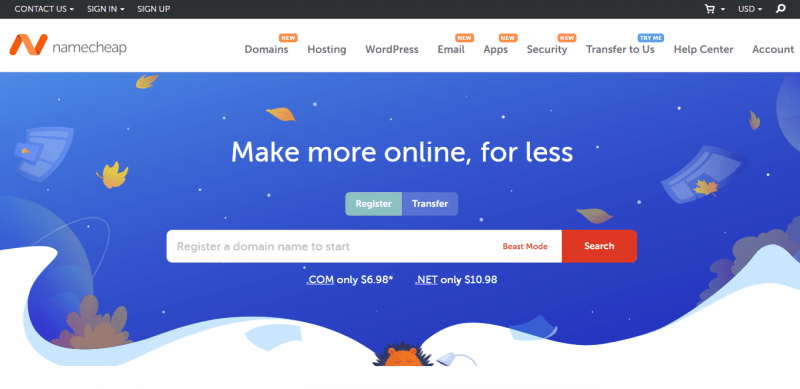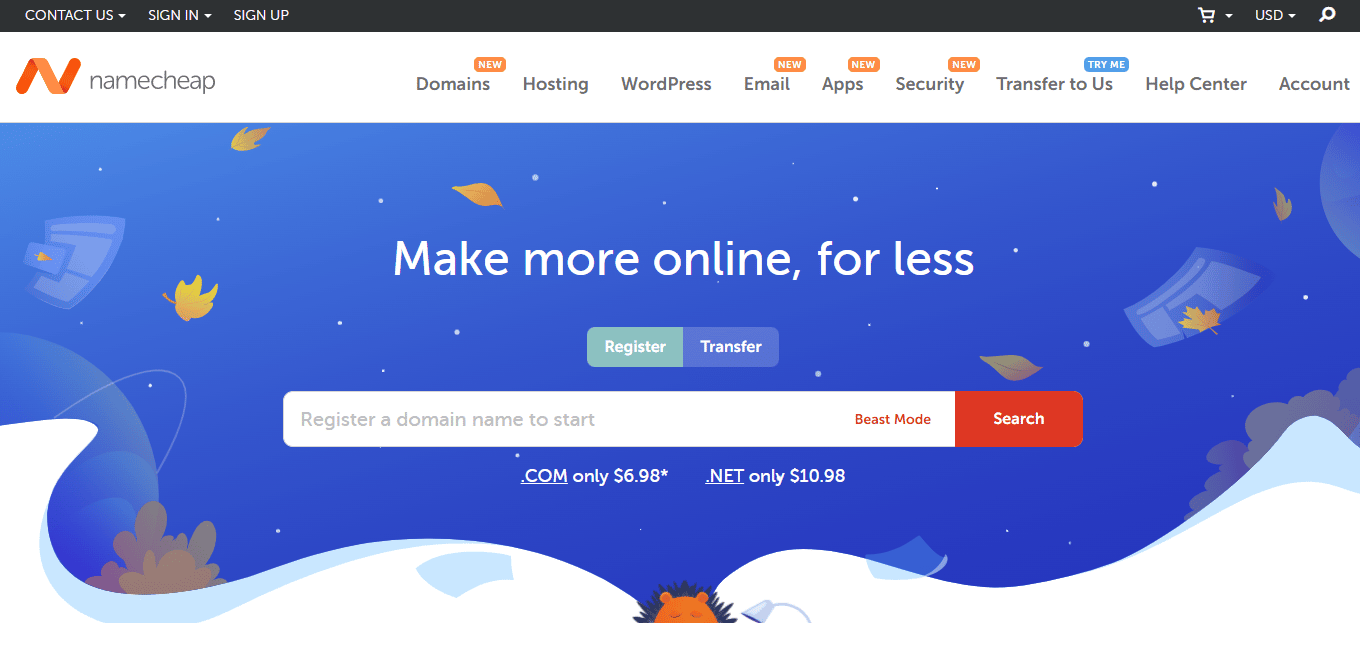 Namecheap is a global, publicly traded company that provides free domain registration with its shared hosting service. They also offer privacy protection on their domains as well as free forwarding, locking, and parking options.
To use Namecheap's free services you'll need to have an existing account with them (you can sign up here). Once your account has been created, use their domain search tool to find the right domain name for you, or contact one of their customer service representatives via phone or email if you have any questions about the process of acquiring a new one.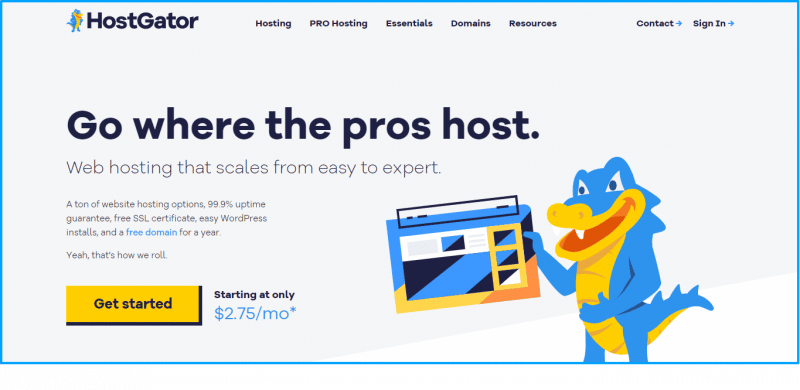 HostGator.com is a good option for those who want to start their own website or blog, but don't want to spend the money on setup costs. They offer a free domain name for a year in their shared hosting plans, which means you get your own domain name plus space on their server. Moreover, they include a free SSL certificate and free WordPress/cPanel website transfer in their hosting packages.
If you want to use WordPress as your content management system (CMS), HostGator has an extension called "WPEngine" that allows you to import existing content from another platform by uploading it through their interface. This feature makes it easy for non-coders who may not know how to install other CMSs on their own servers!

InMotionHosting.com is a web hosting company that provides web hosting services to small businesses, bloggers, and website owners. They offer a variety of hosting plans, including shared and VPS (virtual private server) servers as well as dedicated servers. Moreover, they offer a free website domain in their shared hosting plans. In addition, they also provide a free lifetime SSL certificate as a bonus for you.
InMotionHosting has been in business since 1998, which means it has been around long enough to know what it takes to build successful companies online. Since its founding, InMotionHosting has grown from just one data center location into three continents: North America (USA), Europe/Middle East/Africa; Asia Pacific; Latin America & Caribbean


Hostwinds.com is a web hosting company based in the USA. They offer 1 free domain name in their basic web hosting plan, 4 free domain names in their advanced hosting plan, and unlimited free domains in their Ultimate shared hosting package. Hence, you can start your website without paying anything upfront.
They also have one of the largest selections of server locations around, which means that if you need to host your site on a server in Europe or Asia, they have it covered. The company has been around since 2003, so it has definitely been around long enough to know what works best for its customers (and their businesses).


WebHostingHub.com is a provider of web hosting and domain name registration services that offers affordable prices for its customers. The company has been in operation for nearly 20 years and has been providing excellent customer service since day one.
WebHostingHub offers a free domain name and free SSL certificate with every web hosting plan, which makes it an attractive option for those who want to get their own domains without spending extra money on them at first. The company's pricing structure is simple. You pay a monthly fee based on how much space you need (in gigabytes) plus an additional percentage fee per GB over your limit if necessary. This allows users to customize their plan based on their needs rather than buying excess capacity upfront just because they don't know exactly what they'll need until later when they've already signed up with another hoster.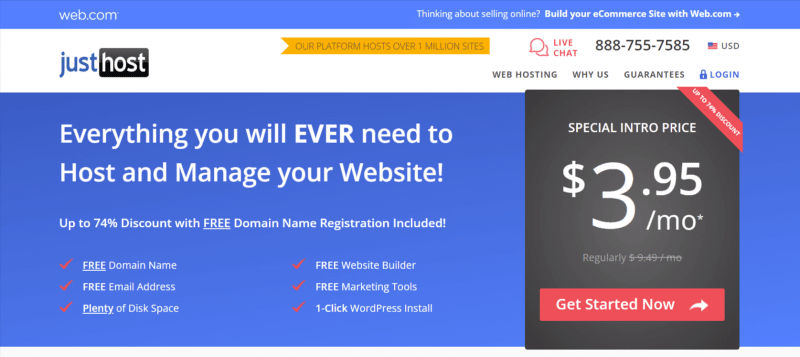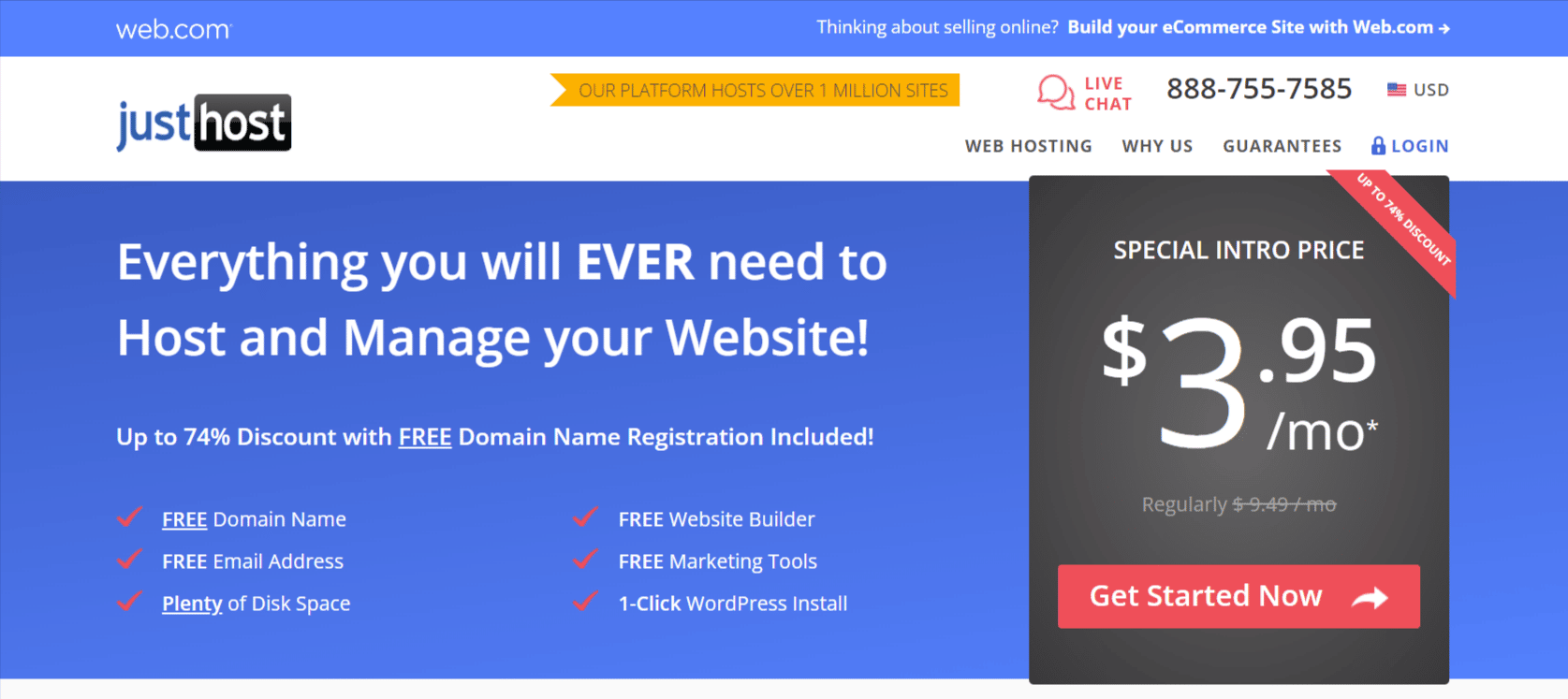 JustHost is a great choice for beginners who want to get started quickly with their website. The company offers a free domain name and email with each hosting plan for a year. Furthermore, they offer a free website builder, 24/7 customer support, and a 30-day money-back guarantee (if you don't need it).
What are the benefits of web hosting with a free domain name included?
You can save money. Most web hosting providers offer a free domain and hosting, so you're already getting your money's worth. But if you want the full service and all that comes with it, like fully-customizable sites and e-commerce capabilities, then you have to pay for it.

You can get a professional website built for your business or personal use by an expert in the field who knows what he is doing!

Your website will be ready to go live as soon as possible because there is no waiting time involved with most web hosts (which means more sales). Your site will also look better faster because of their high-quality control (not all hosts are equal).
Can I Have Free Hosting and a Free Domain Forever?
Yes, you can get free web hosting and free domain registration. Some companies will offer free hosting but charge for domains. Other companies will offer both for free.
The only way to know is to ask your provider in advance what they charge for their services and if they include a totally free domain name with it or not (or if you want to get things started with a .com extension).
Conclusion
We hope you have learned how to get a free domain name with hosting. There is a variety of domain and hosting platforms from where you can get a free domain name forever.  While some hosting platforms offer a free domain name for just one year.
Have a look at the top 5 best WordPress hosting for building a website in WordPress.
Moreover, look at our useful guide to estimate the budget for your WordPress website: "How much does it cost to build a WordPress website?".