Are you in the search for the best WordPress SEO plugins? You've landed in the relevant place. No matter whether you're a blogger or you own a business website, SEO is the thing that will help you to rank your website on the first page of Google.
And, the higher your website appears on Google, the more profit it drives to your business. Therefore, having the best WordPress SEO plugin to track how you're doing in the SEO of your article is cardinal.
I've coupled up for you some of the most used SEO plugins in the market, so you can improve the SEO of your site and finally bring a targeted audience to it.
Be sure to go through this article till the end, so you don't miss something very important. Without talking more, let's make our way to the topic.
What Does an SEO Plugin Do?
SEO Plugin is used to track your SEO optimization and helps you to make it better. It gives you suggestions on whether you're doing well in SEO or not. When it finds something wrong, then it tells you how you can make it better.
It covers everything related to SEO, like content optimization, keyword research, adding internal and external site links, keywords sensitivity, and other crucial factors related to on-page SEO. Each SEO plugin has different qualities.
Some have more, while some have less. But, the purpose they're built for is the same, which is to help you rank your content higher on Google.
Best WordPress Seo Plugins
We are going to mention the finest WordPress SEO plugins that are used across the globe. Not only are they equipped with many useful features, but they are also considered to be the safest ones. These WordPress SEO plugins are:
SEO Press
Rank Math
Word Lift
Slim SEO
Squirrly SEO
The SEO Framework
SEO Pressor
AIOSEO
All in One SEO plugin
Rankie
1.

Yoast SEO


The Yoast SEO WordPress plugin is considered to be the king of SEO plugins. Why? It's because of its incredible features.
With an adorable interface and user-friendly SEO optimization, the Yoast plugin never fails to impress its users.
Not only Yoast SEO provides the SEO Analysis feature but also teaches you to master SEO through its blogs and SEO courses specially designed for beginners. If you use its free plan, then you might get limited features, which would be enough if you're just starting out.
However, when you take its premium plans, you get to see lots of advanced SEO features. Like, Adding related keyphrases and synonyms for the focus keyphrase of your post, Customising OG graphs, and Guiding on how will your content appear on Twitter and Facebook?
Along with keywords sensitivity, interlinking, and other awesome metrics, this best Seo plugin for WordPress generates an XML sitemap for your website. Above all, the Yoast is a Woocommerce Seo plugin that also does SEO optimization for your shopping products.
Features
Tells you about your keyword sensitivity and how to make it better.
Gives you the opportunity to see your website's XML sitemap.
Helps you to interlink other sites better
Shows you how your content will appear on Google.
Helps you to add the Meta description for each post/article.
Gives you directions for implementing the site's headings hierarchy properly.
Gives you the option of modifying the post's SEO title and slug.
Performs Readability Analysis of the article
Short and small paragraphs checker
The plugin gets updated every two weeks.
The premium version offers you a redirect manager, free support, content insights, and an ad-free interface on the backend.
2.

SeoPress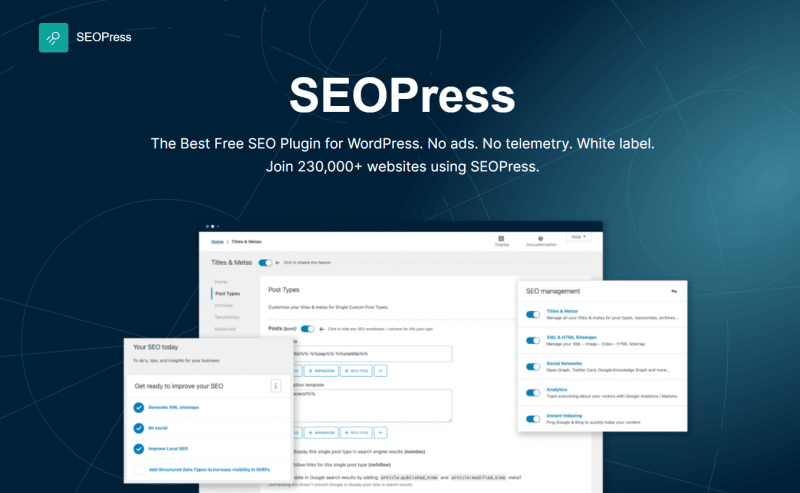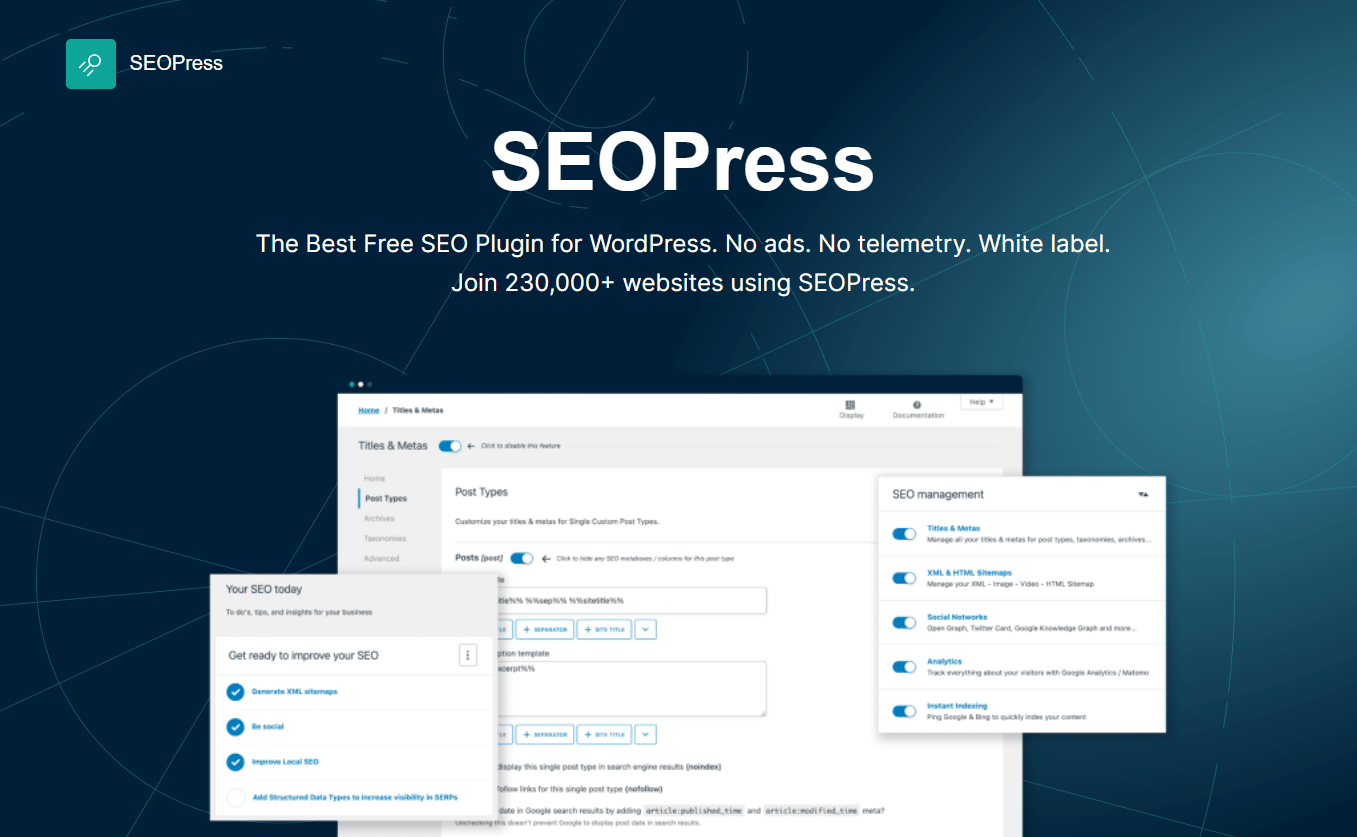 The next WordPress SEO plugin we have is SeoPress which is another famous plugin. It has two versions, free and paid. Even if you use its free version, it will still be fast and simple to use.
It helps you to manage your meta description and title and creates an XML sitemap for your website. Not just that, the plugin tracks your visitors with the help of Google analytics.
Features
It doesn't contain any ads.
You can see google analytics with it and track your site's performance.

You can set up custom aspects, like, empowering remarketing, socioeconomics, interest announcing, tracking PDF, and downloading DOCX & XLSX. In addition, you can configure IP Anonymization

and cross-space following which is only the tip of the iceberg.
Simple to use, and it's user-friendly.
3.

Rank Math


Rank Math is one of the most user-friendly SEO plugins that you could ever have. It's choke-full with all those SEO features that you'd need to rank your content higher on Google SERPs.
This SEO plugin allows you to handle the On-page SEO and Technical SEO of your posts, products, pages, and other testimonies. The Rank Math plugin firmly coordinates with Google Search Console to bring you fundamental data just inside your WordPress administrator dashboard.
Data like what watchwords you are positioning for, the number of search impressions your site is getting, what blunders Google sees on your site, and so on, is accessible in one look.
Aside from that, Rank Math accompanies an inbuilt 404 Monitor, Redirections, Rich Snippets, Local SEO, XML Sitemaps, Automated Image SEO, Internal Link Building suggestions, and so on.
Features
All SEO tools are available in one place
It's user friendly and easy to use
An XML site map is included
Rich snippet support
Equipped with Open Graph and Twitter Card support
4.

WordLift
WordLift is an AI-Based SEO plugin that helps marketers and content editors to manage the on-page SEO of their work. This Seo plugin assists you with getting sorted out your data while computerizing organized information markup.
Also, it helps you to interlink, put the right keyword with the right quantity and readability, and also tells you about other use SEO metrics.
Not just that, you could also begin translating your articles and pages into machine-accommodating data that search crawlers, chatbots, and individual advanced associates — like Google Assistant, Siri, and Alexa — can utilize and grasp your natural traffic.
Features
Has WooRank's technology to assist you to see the performance of your website
Can be connected with Google analytics
A few clients of this SEO-based plugin are Airbnb, Amazon Audible, Greenpeace, Merck Group, and TheNextWeb.
Utilizes normal language handling and information charts for computerizing organized connected information markup.
5.

Slim SEO


Whichever WordPress SEO plugins we've talked about so far are the ones that allow you to make your SEO better by tracking your SEO optimization. However, slim SEO is totally different from them.
How? This SEO plugin doesn't need so much effort from you; it does everything itself. Like, it creates meta tags, and sitemaps add markups and create redirects as well. That's impressive, isn't it?
Not just that, the slim SEO plugin allows you to put the Open Graph meta tags and configure the appearance of your content in the search results. Also, you can add any code to the footer and the header of the plugin, which is fantastic when you want to add some more functionality.
However, when the Slim SEO plugin is compared with others on our list, it has fewer features than them. But, still, the plugin does the trick for you. So, if you're comfortable using only some limited features, then you may consider going after Slim SEO.
Features
Automatically creates meta tags sitemap, schema makeup for you
It can be used to predict other pages
You can also modify your content when any user shares it on social media
It doesn't require so much effort; you can let it do according to the settings that are set up in it by default.
6.

Squirrly

SEO

Squirrly Seo is showcased for individuals who are not SEO specialists. It satisfies that case by offering a total SEO suite without confounded components.
Squirrly Seo produces SEO suggestions uniquely. The ideal keyword is additionally punched in, so when you keep composing your article, a progression of green lights is enacted progressively. It's practically similar to you having a specialist murmuring into your ear as you're composing.
Features
The SEO optimization is done automatically while you write
If you anticipate swapping an old SEO module for WordPress with Squirrly, it actually keeps every one of your settings from the past arrangement.
It has a separate tool that analyzes your competitor and tells you how you can outrank it.
7.

The SEO Framework

The SEO Framework seems to be the only WordPress plugin that can scan your WordPress environment and intelligently build vital SEO meta tags.
There's no need of doing one thing two times, The SEO Framework includes real-time caching algorithms that reduce database load and save battery life on your laptop.
Also, You won't find any fake pseudo-SEO to waste your time on. All you require is the content with which you work. Finally, you may concentrate on making your website usable and appealing. This is the most secure WordPress Seo Plugin available these days.
Features
Easy to use
Clean Interface
Real-time caching algorithms
8.

SEOpressor


SEOpressor is a WordPress Seo plugin that is equipped with tons of amazing features. For each post you produce on WordPress, SEOPressor assigns a score (0 to 100, with 100 being the best).
If you desire better rankings, your goal should be to raise your score (although you don't have to obtain a score of 100 for every post you submit; aim for 80 or higher).
Most importantly, this plugin provides excellent suggestions for naturally optimizing your blog entries. If you hate going to the other website for doing different tasks, you can have this plugin to do everything in one place.
Features
All in one SEO plugin
Contain a feature of word count
Easy to set up
User-friendly and Seo optimized
9.

All In One Seo Plugin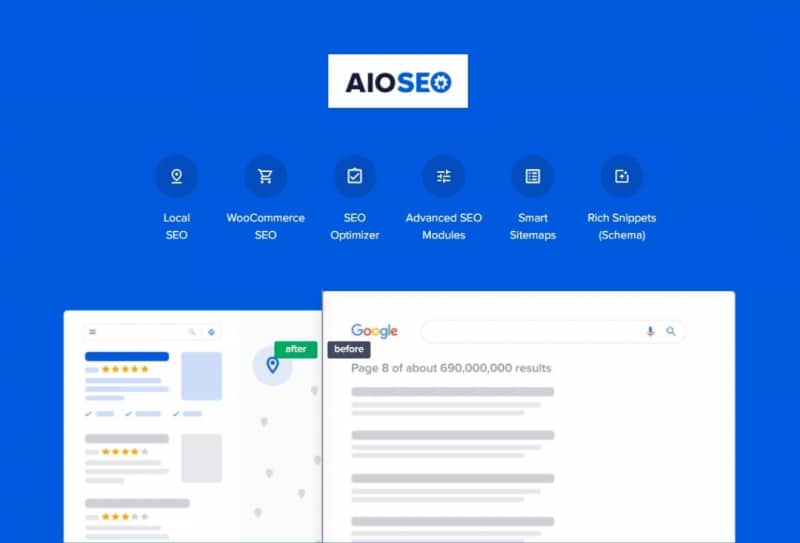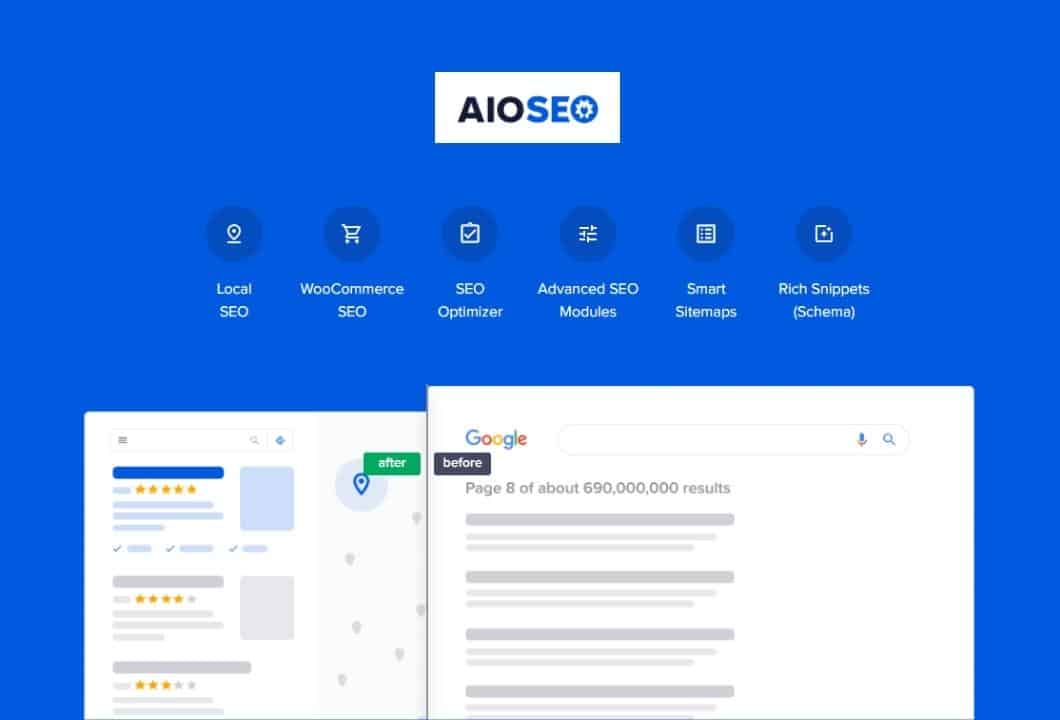 Another best WordPress Seo plugin we have is called the All in One SEO plugin. As the name suggests, the plugin offers you everything in one place. It's also known as AISP in the world.
This WordPress SEO Plugin is used by over 3 million savvy website owners to properly set up WordPress SEO so that their websites may rank higher on search engines.
The purpose of making this plugin was to free people from hiring SEO experts. You just need to set this plugin once and it'll be fixing all the issues related to the SEO of your site. Also, you'll be able to SEO optimize your website with it.
Features
Includes smart XML sitemaps
Includes Video Sitemaps
Google news sitemaps
eCommerce SEO support
Supports Rich Snippets Schema
Includes Seo Audit Checklist to help you to optimize your website.
Provides tools for local SEO in order to rank higher on Google Maps.
Includes Robots.txt Editor
Includes Redirection Manager
10.

Rankie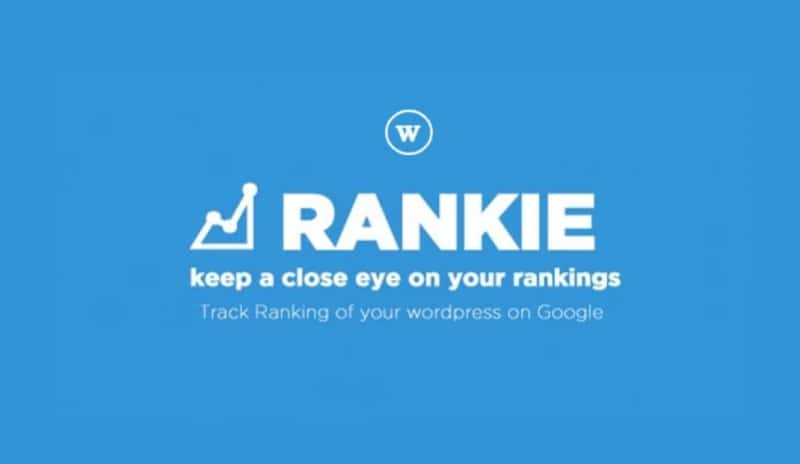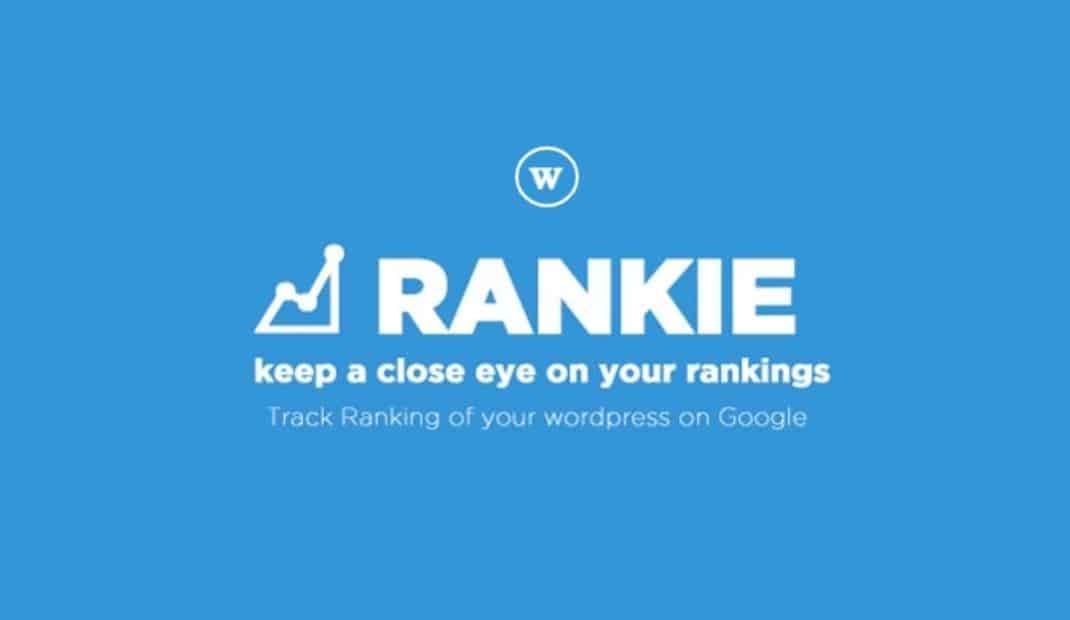 The last best WordPress Seo plugin on our list is Rankie which has gained a lot of popularity over time.
As the name of the plugin suggests, this WordPress SEO plugin helps you to track the ranking of your website on Google so you can customize your posts accordingly.
It updates keyword rank positions daily and delivers strong reports. Not only that, but it also has a strong research tool that generates useful keyword lists based on what Googlers are already searching for.
Features
It delivers Ranking reports
Also works as a keyword research tool
It supports all types of languages
It automatically tracks and shows you all those keywords that are searched on google.
We hope that you have learned effectively about the best SEO plugins for Technical SEO and On-Page SEO of WordPress websites.
You may also want to learn "How to set up WP Rocket plugin for the fast loading of your website pages".
If you have any queries, you can ask in down below.