There are many themes which are paid and free also. In this tutorial, we will guide you on how to install a WordPress theme. If you are unfamiliar with WordPress, then you can first read our in-depth article based on the "Introduction to WordPress".
There are the following 2 ways to do so. You can check any of them which suits you best.
1. Install a Theme using WordPress Theme Directory
The easiest way is to find a theme from the WordPress theme directory. Here you can find the free themes. Let's the process begins!
Go to Appearance >> Theme page >> Add New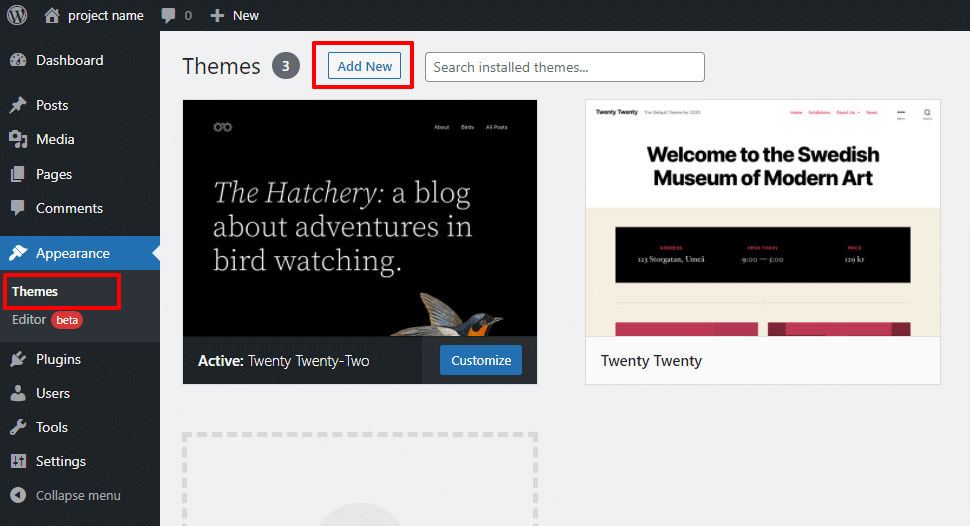 As a result, add themes page will appear. Search for Astra theme as it is free to use. You can also search for any other theme of your choice.


Astra theme will appear in the list. Move mouse over the Astra theme.  Click on the Install button.


WordPress will begin the theme installation process.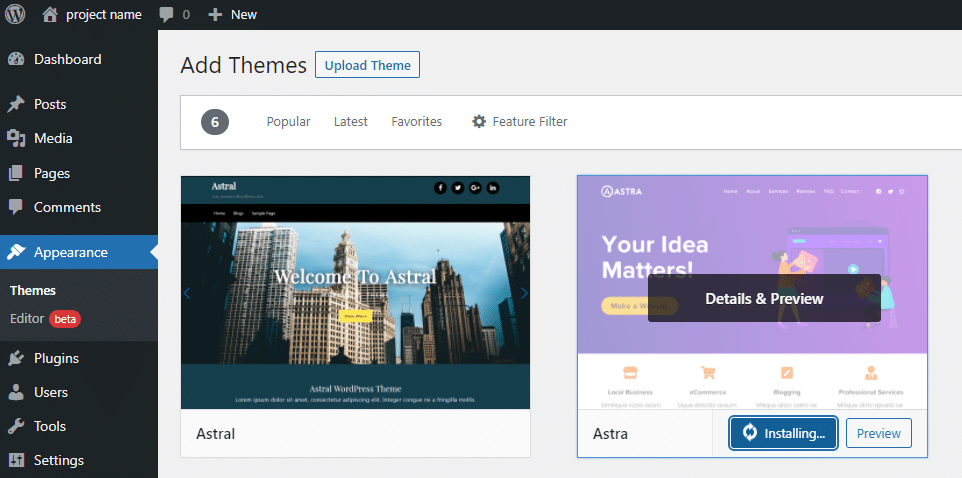 When the installation process has been completed, you have to activate the theme for using it. Click on the Activate button.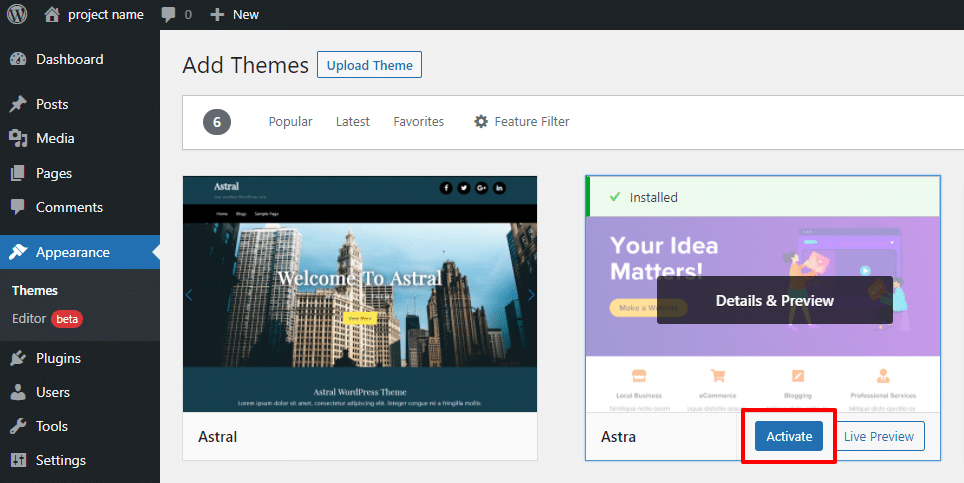 Now, you have successfully installed an Astra Theme. Moreover, you can customize it according to your needs.
Also, read "how to install WordPress on your computer" step by step.
2. Install a Theme by using the Upload Option
This approach is used when you have to use a Premium theme. You can purchase themes from any marketplace like Themeforest, Elegant Themes, and so on.
The first step is to log in the WordPress then go to Appearance >> Themes. Click on the Add New button.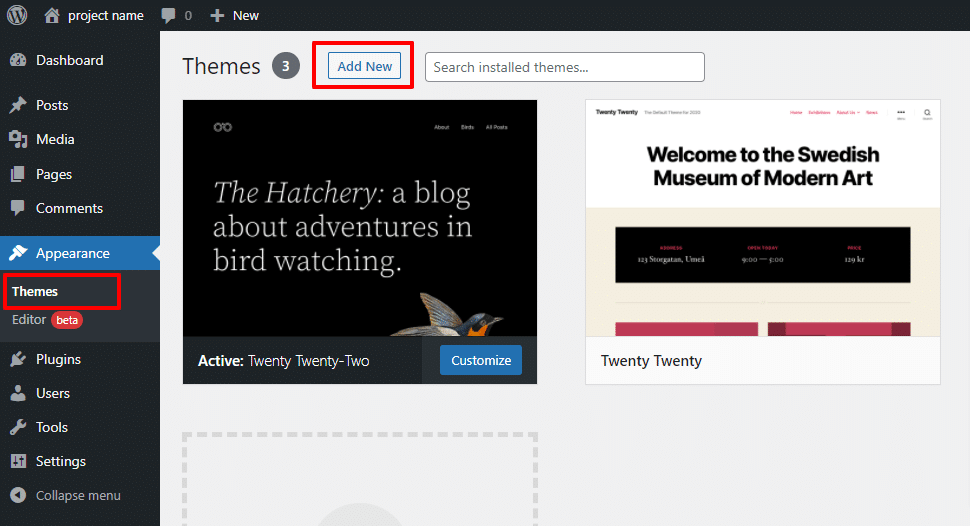 Since you already have a theme file then it's time to upload it.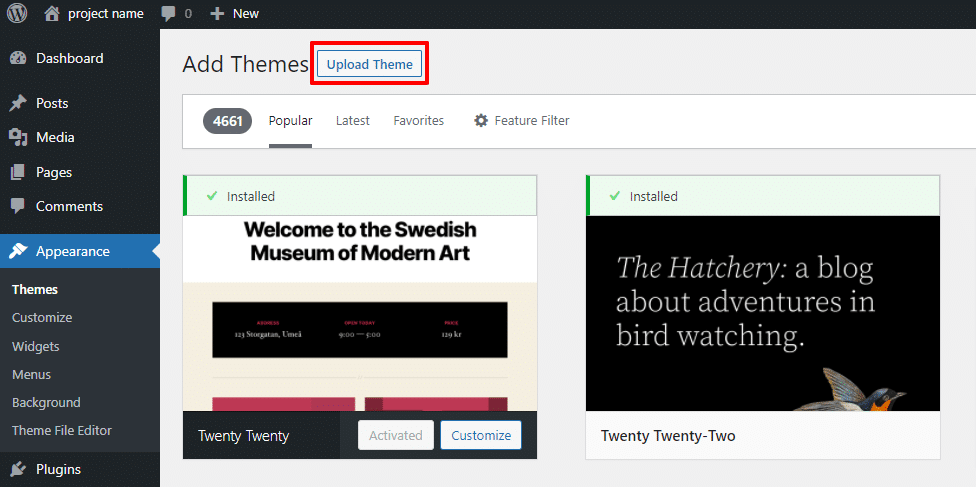 In the next step, select the theme file which you want to upload. Keep remember, you have to upload the theme file in a zip format.


After choosing the theme file, click on the Install Now button.


The theme will begin to install automatically. A success message will be displayed that theme has been installed successfully. Lastly, click on the Activate button in order to use the theme.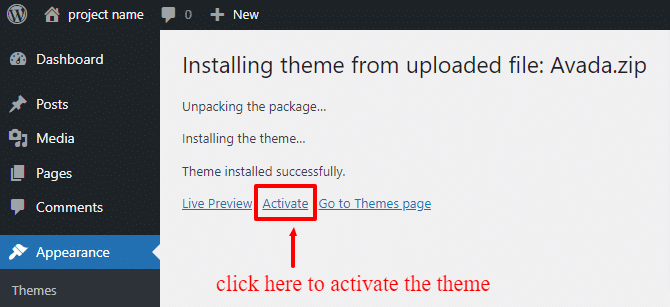 Congrats! You have successfully installed a WordPress theme. All themes may vary in additional settings for configuration and customization. So, you have to look at different option panels.
Some FAQs about WordPress Theme Installation
Can I use two themes at a time?
No, You can use only one theme at a time. You can install many themes but can activate only one of them. If you activate another theme, it will de-activate your previous theme and become your currently active theme.

What is a child theme?
A child theme is a sub-theme of the Parent theme. It will inherit all the functionality, styles, and features of the parent theme. You have to install a parent theme first and then a child theme but activate only the child theme which you want to use.

Should I choose Premium themes only?
If you are a beginner and have a limited budget then you can choose free themes but if you need some extra privileges then you must go for the Premium themes as they have some extra support that might be useful to you.

Which theme is best to use?
There are many themes that are professionally designed. You should know the type of website you need and according to the minimalistic design, you can figure out the theme. This is the easiest approach to finding the theme for your website.
Conclusion:
We have shared detailed step-by-step instructions on "how to install a WordPress theme". The next step you want to know will be "how to install plugins in WordPress". In this article, we have covered two different methods for WordPress theme installation. So, you can choose the best method for your project.
Have a look at the 10 Best WooCommerce themes for building an E-Commerce store on WordPress.