Do you want to add a contact form to your WordPress website? A contact form is required on any website so that visitors may quickly contact you to discuss your products and services. Although WordPress does not come with a built-in contact form, you can easily add one to your site.
Beginners frequently ask why we need a contact form instead of an email. Isn't it possible for me to simply include my email address on my website so that people can contact me via email? One of the most significant reasons to have a contact form on your website is to eliminate Spam emails and safeguard your site. This tutorial will guide you step-by-step on how to build a contact form from scratch.
In this tutorial, we will use the WPForms plugin to create a contact form because it's free and simple to use.
Without further due, let's make our way to the topic.
Step 1: Install a Contact Form Plugin
Navigate to the Plugins tab from the left sidebar of the WordPress dashboard. Secondly, click on the Add New button. Search the name of the plugin "WPForms".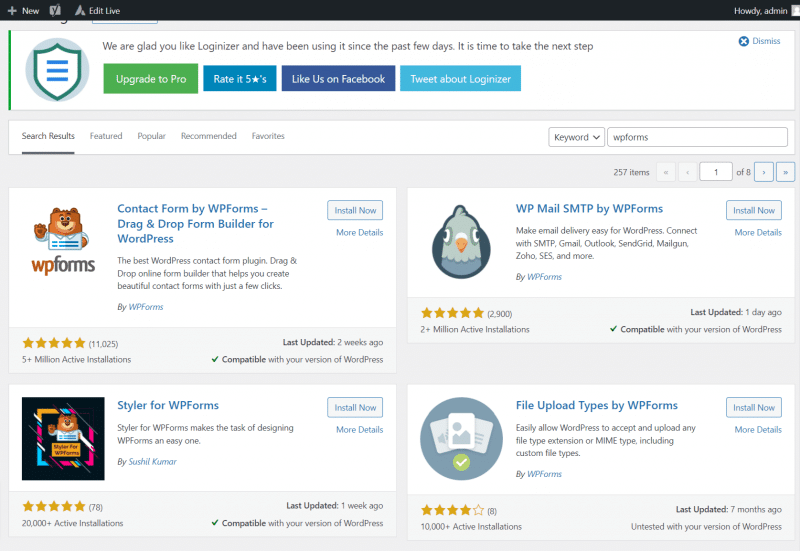 Then click on the Install now button to use that plugin. The installation process will be completed once you click on the activate button. See our previous guide on "How to install Plugin in WordPress?".

Step 2. Create a Contact Form
After activation of WPForms, let's create a Simple Form now.
Navigate to the left sidebar of the WordPress dashboard. Go to the WPForms menu and click on Add new button.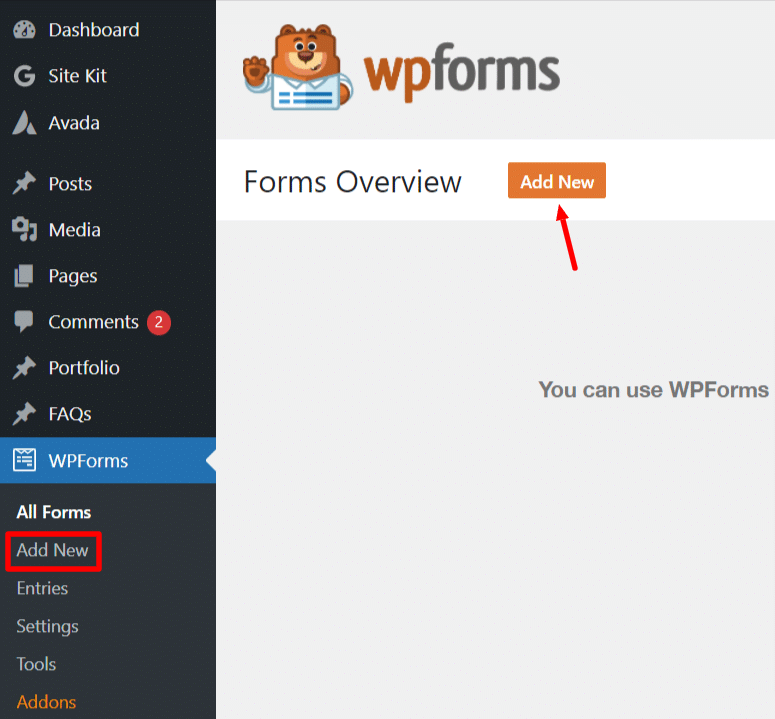 Here you will see different kinds of templates. You can choose one of them. So, start by creating a Simple Form first.
When you click on the Simple Contact Form, the next screen will show you the fields so you can choose among them.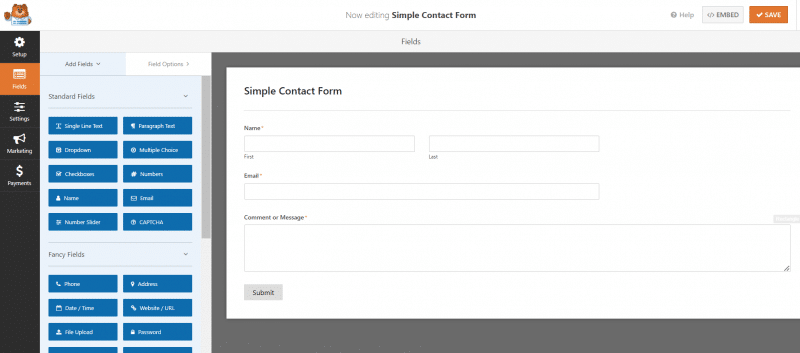 If you need any field then just drag it from the list of Field Options and drop it under the Contact Form Section. Then Save it from the upper button.

S
tep 3. Maintenance of Notifications & Confirmations
After creating a form, the next point is to set up the notifications.
When your visitor submits the form, he will see a confirmation message. This message could be "Thank you for submitting the form". You can alter the type and content of the message in the ​⁠Confirmations​⁠ settings of WP Forms.
The email you receive after someone submits the contact form on your WordPress site is known as a Form Notification. You can configure the Notification settings by navigating to WPForms > Settings > Notifications.
Both of these settings may be changed in the WPForms form builder's Settings tab. In most cases, the Thank You message in the form confirmation remains as it is. You may change it to any other message if you like. If you select Confirmation Type, you'll see options for the message and page that visitors will view upon form submission.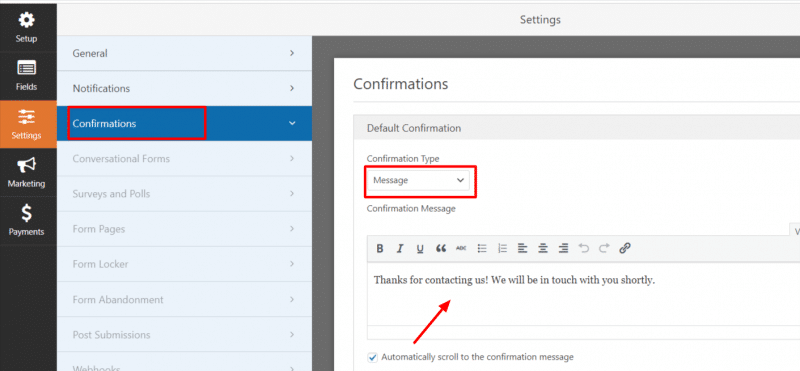 When you open the Notifications tab, all the fields are filled by default.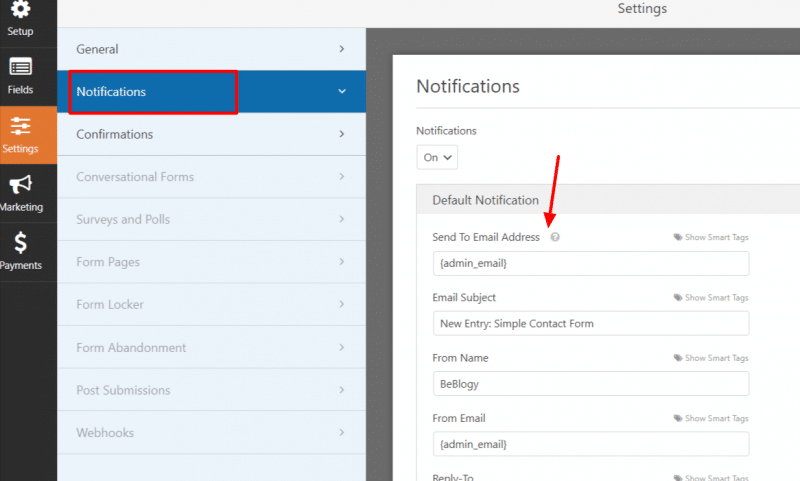 The notifications are sent to the Admin Email address that you have set up on your site by default.
If you wish to send notifications to multiple email addresses, you can do so. Simply use a comma to separate each email address.
We've written a comprehensive guide on how to set up custom form notifications so you may send forms to numerous recipients or departments.
Step 4. Adding WordPress Contact Form to a Page
Now, it's time to display the contact form on your WordPress website which you configured earlier. The first step is to either build a new page in WordPress or alter an existing page to which the form will be added.
To embed the form on a page, firstly open the desired page in its page builder. Then add Element with the help of a plus(+) button.

Search Widget in the search box and select it.

Here select the WPforms as a widget. To pick the Form you made previously, select it from the drop-down option. WPForms will provide you with a preview of your form in the editor.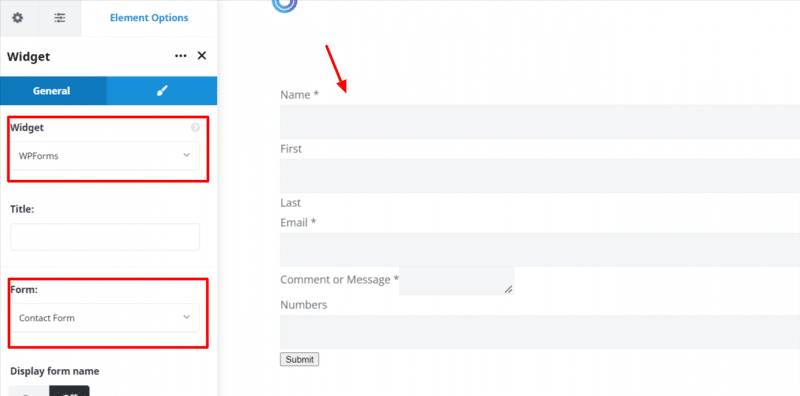 If you want to see how many Forms you have, then click on the All Forms tab on the WordPress dashboard and see the name of your required WordPress form.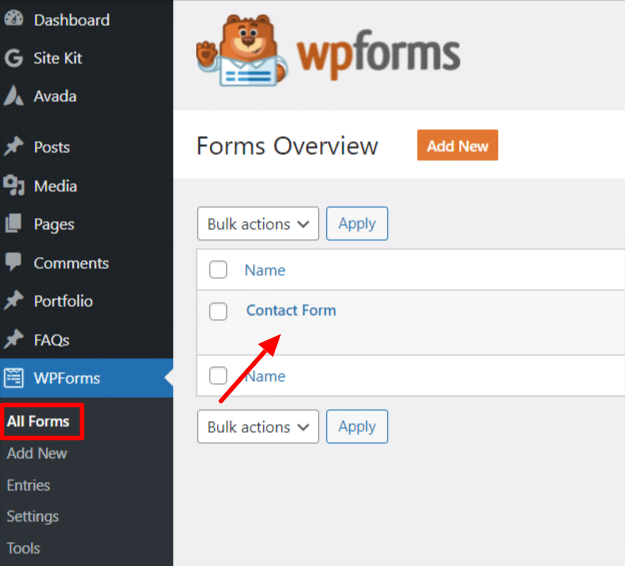 You may now save or publish your page and preview it on your website.
Purpose of Shortcode
Another way to display a form on the site is by using a shortcode. WPForms also includes a shortcode for a WordPress contact form. By going to WPForms » All Forms and copying the contact form shortcode, you can paste it into any WordPress post or page.

Congratulations! you have added the Simple Contact Form to your page.
CONCLUSION:
In this tutorial, you have learned about "How to Create a Contact Form in WordPress?". We have used WPForm Plugin because it is free to use. Then we have created a Simple Form that is very easy to handle.
You can also use a ContactForm7 plugin for creating forms on your website.
Have a look at different other WordPress plugins which we have reviewed in our WordPress blog.